Missy Luczak-Smith Takes Second Amateur-Owner Hunter Classic at Horse Shows by the Bay
With a Score of 87, she also ties for the Hillside Farm High Score Amateur-Owner Hunter Award

Traverse City, MI - July 13, 2013 - The score of 87 was a popular one today as the Amateur Hunter sections concluded at Horse Shows by the Bay. Three Amateur-Owner riders posted this impressive score to tie for the coveted Hillside Farm High-Score Hunter Award.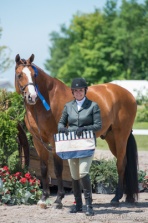 Lynn Walsh, of Magnolia, TX, guided her MacArthur Park to an 87 on the way to earning the 3'3" Amateur-Owner, 36 and Over, section championship.

Lacey Gilbertson, of Lake Forest, IL, and Condanas posted a stunning round over Blake Alder's challenging 3'6 Amateur-Owner Handy Hunter course to take the blue.

And Missy Luczak-Smith, of Charlotte, NC, rode her Encore, nicknamed Hugo, to an 87 on the way to victory in the Grand Traverse Resort and Casinos Amateur-Owner Hunter Classic.

"I'm so thrilled. I can't believe it's two weeks in a row," said Luczak-Smith of her winning classic performance. "He tries so hard and gives me 100 percent."

Luczak-Smith described the classic course as challenging.

"There was a seven and a nine [stride line], and the nine was giving people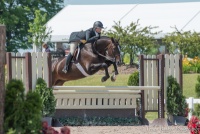 trouble throughout the day," she said. "Hugo has a huge stride, and I can trust him, and I think that gives me a little bit of an edge. Even though he was a little tired, I knew if I went to call on him that he'd step right up and help me. It's a really great feeling."

She also credited her team at Uphill Farm for helping her from start to finish. "I have to thank Tom Wright, Hayley Barnhill and Mitchell Robertson, who has been helping us here. Mitchell has been tuning him up for me and getting him set up. I couldn't go in the ring and get 87s if it wasn't for them. I feel really lucky to have a great group of people helping me."

To watch Missy and Encore earn their round of 87 click HERE.

Likewise, Lindsey-Blay Phibbs, the Camping World Sales & RV Rentals Adult Amateur Classic winner, said it was a team effort that made it possible for her to score an 87 on the way to victory today aboard Rive Gauche. She also earned the Hillside Farm High-Score Hunter Award for the Adult Amateur sections.

Phibbs, 33, of Royal Oak, MI, is an OB/GYN resident and must balance her career and riding duties creatively.

"I was on call Thursday night, and I got off Friday morning at 8, and then my mom and I drove up here," she said. "Then we horse showed, and I went off course in the first class! But from then on it was really good."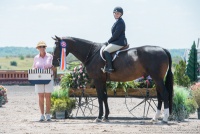 Phibbs trains with her Florida-based sister Courtney Phibbs and Heather Irvine at Hillside Farm depending on where she's competing. This week it was the team at Hillside that helped prepare Rive Gauche, a 13-year-old Holsteiner (Riverman-Imitation) for the ring.

"My horse was great. He did his job and made it easy for me," she said. "I was very excited to do so well. They were great scores. Anytime I'm over 80, I'm happy. An 86 and 87, OK!

Follow the action during Horse Shows by the Bay Series II. Competition will be held in all five rings, with the Grand Prix Ring and R.L. Polk Family Main Hunter Ring streaming live thanks to ShowNet LLC and this week's free streaming partner, Alltech Equine TV. They're bringing the action right to your screen every day, beginning at 8 a.m. Go to www.horseshowsbythebay.com and click on "Watch It Live."

Horse Shows by the Bay Series II
Featured events for July 13-14: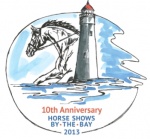 USHJA/World Championship Hunter Rider Week

Hillside Farm High-Score Hunter Awards

$30,000 Grand Traverse Bay Grand Prix & 10th Anniversary Orange-and-Blue Party, Saturday, July 13

$5,000 The Patton Family $5,000 NAL Low JR/AO Jumper Classic - Sunday, July 14

$10,000 Mr. and Mrs. Bertram Firestone SJHOF High Junior/Amateur-Owner Jumper Classic, Sunday July 14

$2,500 USHJA National Hunter Derby, sponsored by Walgreens - Sunday, July 14

$2,500 The Harvey Family NAL/WIHS Children's Jumper Classic - Sunday, July 14

$2,500 Der Dau NAL/WIHS Adult Jumper Classic - Sunday, July 14
Special Exhibitor functions this week include the Tribute Equine Nutrition Wine & Cheese Social on Thursday, with wines from Black Star Farms winery in Sutton's Bay, MI featured this week. The ice cream socials will be sponsored by the Harvey Family on the weekdays & the Gochman Family over the weekend. The Morgan Stanley VIP/Sponsor Luncheon will be held on Sunday afternoon.
The official Horse Shows by the Bay 10th Anniversary celebration starts tonight at 5pm; spectators are encouraged to wear their most festive orange-and-blue attire. This special day will also serve as a fundraiser for Michigan State University's College of Veterinary Medicine.
During the Saturday evening Grand Traverse Bay Grand Prix, exhibitors and spectators will be treated to a complimentary dinner sponsored by MSU. A dressage exhibition by local Grand Prix rider Betsy Van Dyke will kick-off the evening, which begins at 5 p.m., and she'll return to the ring again on Sunday afternoon at 1 p.m.
For full show results, please visit www.horseshowing.com.
For daily updates and photos, please visit the Horse Shows by the Bay Facebook Page.

For more information, schedules, directions, or to Watch It Live, please visit www.horseshowsbythebay.com.